The Year 1907 in Film: The Debuts of Éclair, Essanay and Kalem
0
This is a work in progress as I am still researching the year 1907 in film. I've added 256 films to my index so far whereas IMDb has 2,483 entries. I think I may have, however, found most of the surviving films. Conclusions drawn will be based on the data I've gathered so far and this article will be revised as my research continues.
Out of those 256 films, 135 were produced in France, and 91 of those by Pathé frères, the leading film production company worldwide in the early 20th century. There are 24 films produced by Georges Méliès and 18 by Gaumont. I have one film from the Société Générale des Cinématographes Éclipse, which was founded in August 1906 but apparently didn't begin film production until 1907. There's also one film from Georges Mendel's Film Artistique Chantant series which consisted of unknown actors mimicking along with Gramophone recordings by great artists such as Enrico Caruso.
So far the USA holds second place with 50 films. There are four boxing-related films from the Miles Brothers and four from the Kalem Company which began producing films in 1907. There are also four films from the Winthrop Moving Picture Company whose films were distributed as flip books. So far I have five films from the Selig Polyscope Company and one from Belcher & Waterson, Waiting at the Church, directed by Edwin S. Porter. There are two films from the Lubin Manufacturing Company and so far one film from the Essanay Film Manufacturing Company which also got started in 1907. I have seven films so far from the Vitagraph Company, 12 from the American Mutoscope and Biograph, and 10 from the Edison Manufacturing Company.
The UK is in 3rd place with 35 films. There is one from the Warwick Trading Company, 4 from the Gaumont British Picture Corporation, 3 from the Walturdaw Company, 2 from Mitchell & Kenyon, 5 from the Hepworth Manufacturing Company, 2 from Robert W. Paul, 2 from the Clarendon Film Company, and 16 from the Charles Urban Trading Company. There are 13 films from Austria, all of them from erotic filmmaker Johann Schwarzer.
There are eight films from Denmark, all produced by the Nordisk Film Kompagni and directed by Viggo Larsen. The remaining 15 films are from Germany (4), Australia (3), Italy (3), Brazil (1), Canada (1), Finland (1), Spain (1) and Japan (1).
My YouTube playlist contains 178 films, 14 of those are either fragments, incomplete, or cutdown versions for home projectors. Of the remaining 78 films in my index 32 are held in various archives, 9 are viewable at the British Film Institute's screenonline.org which is only available to educational institutes and libraries in the UK, 26 films are lost (this number will certainly grow as my research continues) and one, Les Mésaventures d'un cycliste myope, is not available online but is included on The Marcel Perez Collection: Vol. 2 DVD.
The remaining ten films are Schwarzer's erotic films nine of which can't be included in my public playlist and the tenth is a fragment which is only available on the Saturn-Filme 1906-1910 DVD. As these films contain nudity and cannot be made public on YouTube I have added them to this unlisted playlist.
Significant Events of the Year in the Film Industry
France
Société Française des Films Éclair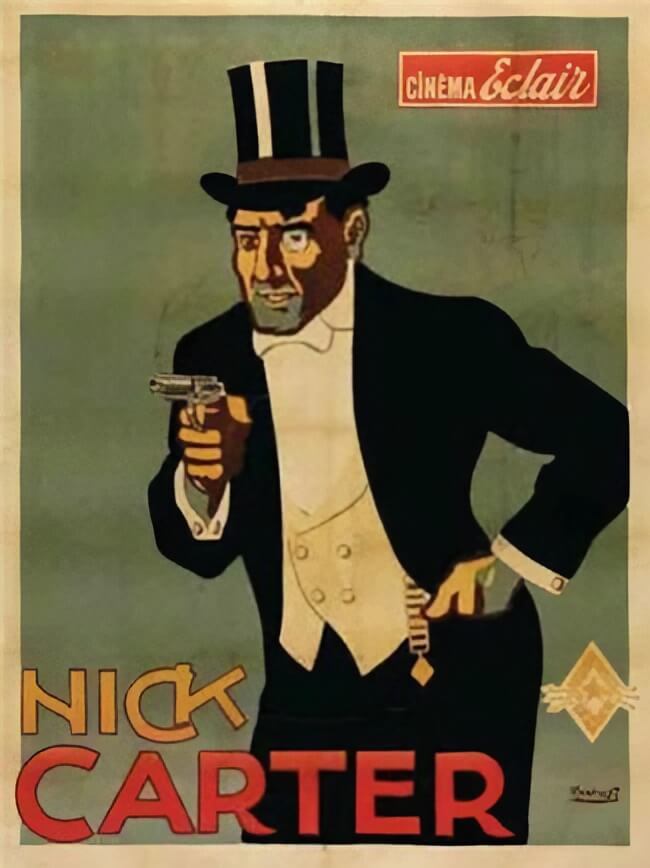 Founded in 1907 by the industrialist Charles Jourjon (1876-1934) and Ambroise-François Parnaland (1854-1913) when the French film industry was dominated by Pathé and Gaumont, Éclair established itself with a series of popular melodramas and soon became the third largest French production company thanks in part to the success of Nick Carter, le roi des détectives (1908), a detective serial based on American novels featuring master detective Nick Carter. It was adapted by Georges Hatot and directed by Victorin-Hippolyte Jasset (1862-1913) who had previously  worked with the Éclipse company for a short while. After a brief stint with the Raleigh & Robert company Jasset returned to Éclair and in 1910 became it's artistic director having oversight of all the company's production as well as his own film-making unit. In 1911 he made Zigomar, taking his title character from the popular newspaper and magazine stories of Léon Sazie about a master-criminal. This feature-length film was so successful that a second title, Zigomar contre Nick Carter (1912), was made ready within six months, and a third installment followed in 1913, Zigomar peau d'anguille. Jasset adapted other popular novels such as Gaston Leroux's Balaoo in 1913, and in the same year Protéa, a spy story in which for the first time the title character was a woman, played by a long-time favorite actress of Jasset, Josette Andriot. The Protéa series continued after Jasset's death in 1913.
Maurice Tourneur (1876-1961) began working as an assistant director for the Éclair company in 1911. A quick learner and an innovator, within a short time he was directing films on his own using major French stars of the day such as Polaire. In 1914 Tourneur moved to New York City to direct silent films for Éclair's American branch studio in Fort Lee, New Jersey. Émile Cohl (1857-1938) was also part of Éclair's roster beginning in 1912.
Éclair's production activity ceased in 1922 due to financial difficulties brought on by the war, the death of Jasset, Tourneur's decision to remain in the USA after the war and the loss of Émile Cohl. In the meantime, the company was developing another enterprise: the design and manufacture of filming equipment, including cameras. At the same time, its studios were rented to other production houses and welcomed other directors such as Luitz-Morat, Jacques Feyder, Marcel L'Herbier and Jean Epstein. Éclair's production activity resumed in 1928. In 1929, it produced one of the first sound films, Le Collier de la Reine, directed by Gaston Ravel.
References: Groupe Eclair, Maurice Tourneur, Victorin-Hippolyte Jasset.
The First Feature Film in Europe
"L'Enfant prodigue has a rather special place in the history of French and European cinema because it was the subject of one of the first "full-length" (1600m or about 80 minutes) films to have been made there. In 1907 Edmond Benoît-Lévy (1858-1929), friend and legal advisor of Charles Pathé and firm advocate of the 'authored' film, in association with the Société des auteurs dramatiques et compositeurs (SACD), filmed Carré's pantomime in its entirety. Benoît-Lévy's notion seems to have been to create a firm alliance between the SACD and Pathé, with this full-length production setting a precedent for their future work together. Pathé, who had a horror of the expense and risk involved in the making of long films, had no intention of setting any such precedent, withdrew from the negotiations with the SACD and refused to have anything further to do with the production. The film was eventually shot in the Gaumont studios in May and was shown from 16 June 1907 to warm critical praise, at the théâtre des Variétés in the boulevard Montmartre and rather pointedly not at the luxurious new 250-seater cinema, the Omnia Pathé, which had opened just the year before (14 December), even though it was just next door and managed by Benoît-Lévy himself. The film went on to enjoy a limited run outside Paris and was subsequently copiously publicized by Gaumont in their 1898 catalogue." Unfortunately this film hasn't survived.
– David Bond How the Cinema was Reborn in Dumbshow in 1907: Prodigal Sons and Shapely Calves
Alice Guy Leaves Gaumont and France
In 1906 Guy meets fellow employee Herbert Blaché. Due to the illness of Gaumont's veteran cameraman Anatole Thiberville Blaché accompanies Guy to Saintes-Maries-de-la-Mer as cameraman to film Mirseille. The footage is unusable possibly due to Blaché's inexperience. Blaché proposes to Guy on December 25, 1906 and they marry on March 6, 1907. Gaumont had appointed Blaché to facilitate Gaumont's equipment franchise in Cleaveland, Ohio. Guy resigns her position with Gaumont to accompany her husband and they embark for the USA on March 9. They move to New York in early 1908 and in September she gives birth to their daughter Simone. She returns to filmmaking in 1910 when she co-founds, along with her husband and George A. Magie, the Solax Company which became the largest pre-Hollywood studio in America.
USA
The Kalem Company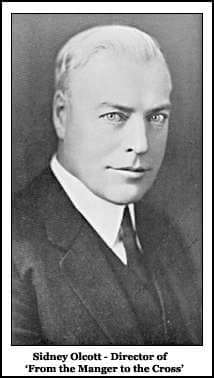 Founded in New York City in 1907 by George Kleine, Samuel Long, and Frank J. Marion, the Kalem Company was named for their initials K, L, and M. It was one of the first companies to make films abroad and to set up winter production facilities, first in Florida and then in California. Frank Marion had been the sales manager at Biograph Studios and Samuel Long was the manager of the Biograph production facility at Hoboken, New Jersey. Needing to raise more capital, the two experienced filmmakers approached Chicago businessman George Kleine to come in as a partner. Kleine, already a successful film distributor, was involved only a short time but it was a profitable investment for him as his partners were soon successful enough to buy out his shares at a considerable premium. The partners were able to lure general manager and director Sidney Olcott away from Biograph. Olcott eventually became the Kalem Company's president. Kalem had no indoor studios, so most of its films were shot on location. In February 1907, the company made its first motion picture, titled The Sleigh Belle. While Kalem scored successes in their first year, the rate of production at the once-powerful Biograph stagnated, hampered by the loss of important personnel.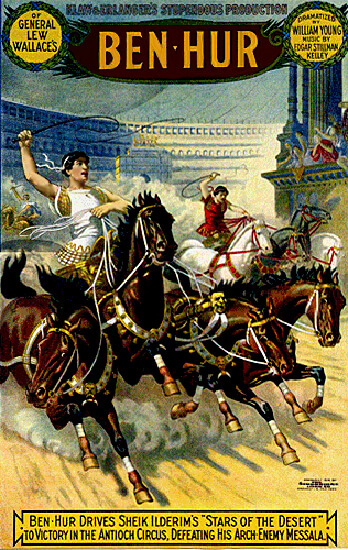 Under the direction of Sidney Olcott, Kalem made a number of significant films, including the first adaptation of Ben Hur in 1907 and the following year, Dr. Jekyll and Mr. Hyde, the first film based on a Gothic novel. The one-reel version of Ben Hur was made without obtaining the rights to the book, the usual procedure in the industry at the time, and Kalem was sued by the estate of the author, Lew Wallace. After the U.S. Supreme Court ruled against Kalem in 1911 it helped to establish the necessity of film studios obtaining motion picture rights to the properties they used for their stories.
In 1910 the company began filming in Ireland, making Kalem the first movie studio to travel outside the United States to film on location. Galvanized by the success of the Irish films, Frank J. Marion decided on a more ambitious expedition to Egypt and Palestine. The most successful of these was the first five-reel film From the Manger to the Cross (1912).
In the fall of 1910, Kalem began organizing other studio locations. In November 1910, William Wright, company treasurer, was sent to the West Coast to assess the feasibility of a permanent studio for the making of Western style films. Wright saw the potential and after given the go-ahead from head office he acquired a property in Verdugo Canyon in Glendale. With films from the Western genre much in demand, in 1911, a second California studio was opened in Santa Monica.
In November 1914, Kalem released the first of 119 episodes of the serial The Hazards of Helen. On the heels of the immediate success of The Hazards of Helen, Kalem Studios simultaneously produced another 16-episode action/adventure series they released in October 1915 called The Ventures of Marguerite.
Allan Dwan joined Kalem for a short time, as did Mary Pickford, who also directed films in 1913. In 1915, the company lost Sidney Olcott who left to work independently for World Film Corporation, Famous Players-Lasky, and other studios. In 1917, after having made close to 1500 motion pictures, the Kalem Company was sold to Vitagraph Studios.
-Adapted from Wikipedia.
The Essanay Film Manufacturing Company
The Essanay studio was founded in 1907 in Chicago by George K. Spoor and Gilbert M. Anderson, originally as the Peerless Film Manufacturing Company. On August 10, 1907, playing on the founders initials the name was changed to Essanay ("S and A"). Essanay's first film, An Awful Skate, or The Hobo on Rollers (July 1907), starring Ben Turpin (then the studio janitor) and produced for only a couple hundred dollars grossed several thousand dollars.
Actors who worked at Essanay include Wallace Beery, Colleen Moore and Gloria Swanson but the mainstay of the organization was studio co-owner, Anderson, starring in the very popular "Broncho Billy" westerns. Allan Dwan was hired by Essanay Studios as a screenwriter and developed into a famous Hollywood director. Louella Parsons was also hired as a screenwriter and went on to be a famous Hollywood gossip columnist. Both George K. Spoor (in 1948) and Gilbert M. "Broncho Billy" Anderson (in 1958) received Oscars, specifically Academy Honorary Awards, for their pioneering efforts with Essanay.
Essanay's famous movies, include the first American film version of A Christmas Carol (1908) and the first Jesse James movie, The James Boys of Missouri (1908). They also produced the very first American Sherlock Holmes film in 1916 with William Gillette. The first film comedy pie in the face gag is believed to have hit Essanay star Ben Turpin in Mr. Flip (1909).
Due to Chicago's seasonal weather patterns and the popularity of westerns, Gilbert Anderson took a part of the company west, first to Colorado. The western operations moved to California, but traveled between Northern to Southern California seasonally. This included locations in San Rafael, just outside San Francisco, and Santa Barbara. Essanay opened the Essanay-West studio in Niles, California, in 1912, at the foot of Niles Canyon, where many Broncho Billy westerns were shot.
In late 1914, Essanay succeeded in hiring Charlie Chaplin away from Mack Sennett's Keystone Studios, offering Chaplin a higher salary and his own production unit. Chaplin made 14 short comedies for Essanay in 1915, at both the Chicago and Niles studios, plus a cameo appearance in one of the Broncho Billy westerns. Chaplin's Essanays are more disciplined than the chaotic roughhouse of Chaplin's Keystones, with better story values and character development. The landmark film of the Chaplin series is The Tramp (1915), in which Chaplin's vagabond character finds work on a farm and is smitten with the farmer's daughter. Chaplin injected moments of drama and pathos unheard of in slapstick comedies (the tramp is felled by a gunshot wound, and then disappointed in romance). The film ends with the famous shot of the lonely tramp with his back to the camera, walking down the road dejectedly, and then squaring his shoulders optimistically and heading for his next adventure. Audiences responded to the humanity of Chaplin's character, and Chaplin continued to explore serious or sentimental themes within comic situations.
Chaplin disliked the unpredictable weather of Chicago and left after only one year for more money and more creative control elsewhere. His departure caused a rift between founders Spoor and Anderson. Chaplin was the studio's biggest moneymaker, and Essanay resorted to creating "new" Chaplin comedies from file footage and out-takes. Finally, with Chaplin off the Essanay scene for good, Essanay signed French comedian Max Linder, whose clever pantomime, often compared to Chaplin's, failed to match Chaplin's popularity in America.
In 1915, the Essanay entered into an agreement, in a last-ditch effort to save the studio, with Vitagraph Studios, Lubin Manufacturing Company, and Selig Polyscope Company to form a film distribution partnership known as V-L-S-E, Incorporated. It was orchestrated by George Kleine. Only the Vitagraph brand name continued into the 1920s, and was absorbed by Warner Brothers in 1925.
-Adapted from Wikipedia
Variety Publishes the First Film Review – Louis B. Mayer Opens His First Theater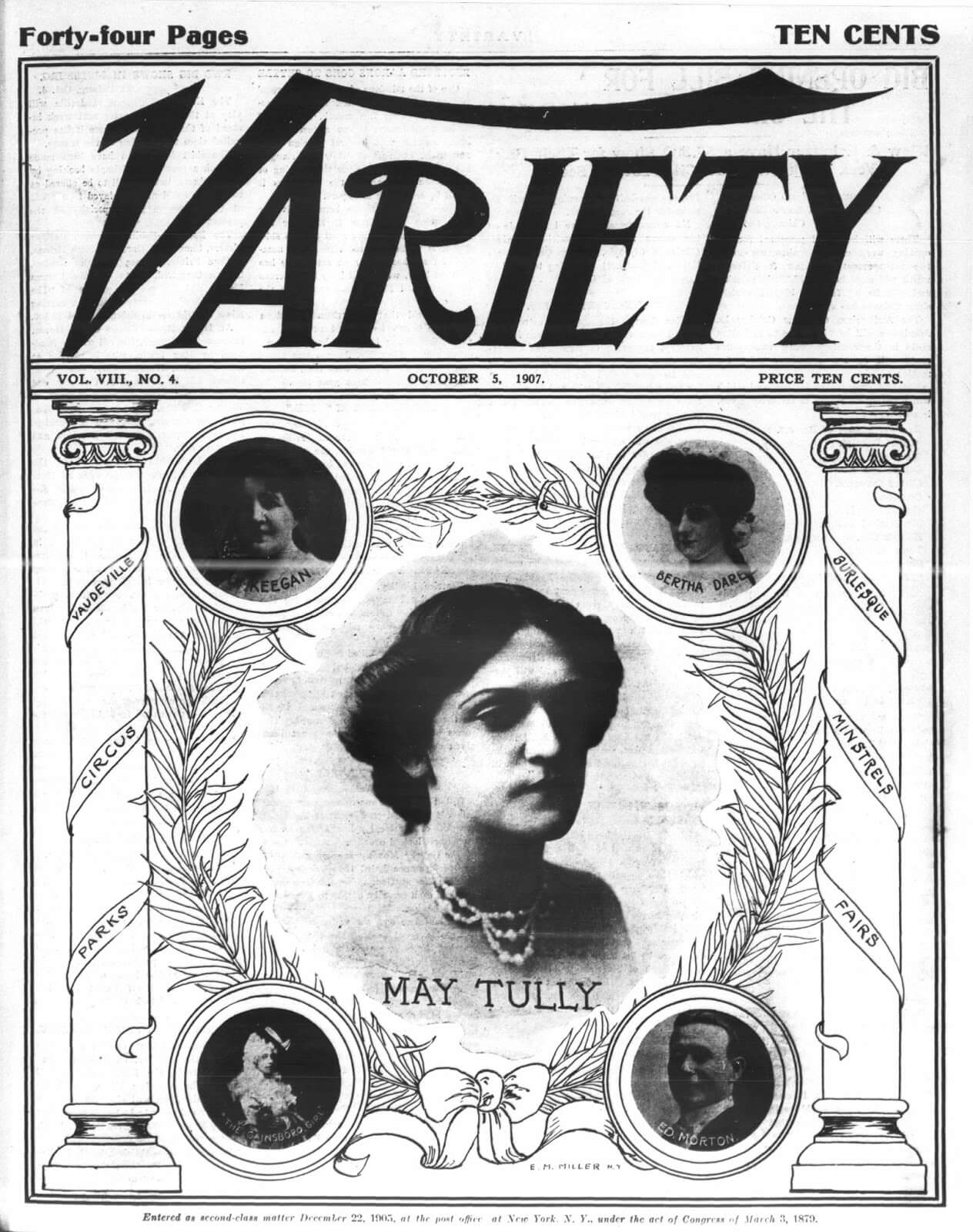 Scrap-metal dealer Louis B. Mayer opened his first movie theater in Haverhill, Massachusetts on November 28, 1907. In a few years he had the largest theater chain in New England and in 1917 he founded his own production company, which eventually became part of Metro-Goldwyn-Mayer.
On January 19, 1907, Variety, which was founded in 1905, published what is considered the first film review in history. Two reviews written by Sime Silverman were published: Pathe's comedy short An Exciting Honeymoon and Edison Studios' western short The Life of a Cowboy directed by Edwin S. Porter. Variety discontinued reviews of films between March 1911 until January 1913 as they were convinced by a film producer, believed to be George Kleine, that they were wasting space criticizing moving pictures and others had suggested that favorable reviews brought too strong a demand for certain pictures to the exclusion of others. Despite the gap, Variety is still the longest unbroken source of film criticism in existence. The reviews may be read here.
United Kingdom
"Cinemagoing was expanding rapidly, to the point where it became viable to establish purpose built cinemas rather than screen films in shop-fronts, nickelodeons and church halls. Film was becoming big business, and as more theatres opened the demand for more and newer films increased.
For British filmmakers, 1907 was another difficult year, with the ongoing problems of international competition fomented by the Pathé company in France. Charles Pathé hit a critical mass in his plans to industrialise the film business and further reduced the price per foot of his films to undercut his competitors. But falling prices, while eating into profits, were not enough to discourage British producers; at least 467 films were released (a conservative estimate), of which 82 survive in the BFI National Archive. Exhibition was healthy, with purpose-built film theatres opening in London, and pioneering companies such as Electric Theatres Ltd. were founded to establish circuits of cinemas.
The surviving films are heavily dominated by the London contingent of pioneering companies such as Hepworth, Urban and Clarendon. Content and styles of filmmaking continued along the lines of previous years with comedy, drama, trick films and animation, interest films and actualities being produced in similar proportions. For the moment film producers steered a steady course and produced the same films as their competitors but strived to make them better.
In drama, adaptations of literary works likely to have a international appeal were popular and would anticipate the establishing of Film d'Art in the following year. Percy Stow's source for his film The Pied Piper of Hamelin was the Robert Browning poem of 1842, to be found in most British nurseries but with a basis in European folk culture. Cecil Hepworth continued to produce good quality comedies along tried and tested lines. In the non-fiction field, Mitchell & Kenyon were still producing wonderful local films.
One newcomer to the film scene in 1907 was the Cinematophone, a synchronised disc system not unlike the Gaumont Chronophones being produced in the same year. These 'singing' films featured well-known songs of the day. One example is By the Side of the Zuyder Zee, a popular song of 1906 by A.J. Mills (lyrics) and Bennett Scott (music)."
-Bryony Dixon A Year in Film: 1907 screenonline.org
Births
Many famous actors and one famous director were born in 1907:
January 3 – Ray Milland, actor (d. 1986)
February 15 – Cesar Romero, actor (d. 1994)
February 22 – Robert Young, actor (d. 1998)
April 29 – Fred Zinnemann, director (d. 1997)
May 12 – Katharine Hepburn, American actress (d. 2003)
May 22 – Lord Laurence Olivier, English actor (d. 1989)
May 26 – John Wayne, actor (d. 1979)
June 4 – Rosalind Russell, American actress (d. 1976)
July 16 – Barbara Stanwyck, American actress (d. 1990)
September 15 – Fay Wray, actress (d. 2004)
See Wikipedia for the complete list.
Film Journals Founded in 1907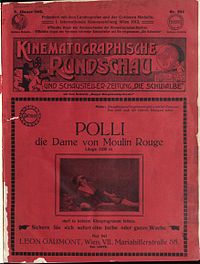 Kinematographische Rundschau, Austria, 1907-1921. Published weekly. Digitized issues 1907-1917 here.
Fon-Fon, Brazil, 1907-1958
Le Cinéma, France 1907
Der Kinematograph, Germany, 1907-1935. The first German film magazine. More info here.
Società anonima Ambrosio, Italy, 1907
Moving Picture World, USA, 1907–1927. The first American periodical devoted exclusively to film. Many issues are available at archive.org.
The Playlist
The films are arranged in chronological order of release date but films for which the month and day of release cannot be determined appear at the beginning of the playlist in alphabetical order. The total running time of the playlist is nearly 18 hours.

Next article in this series: The Year 1908 in Film.
Previous article in this series: The Year 1906 in Film.