The Year 1908 in Film: The Debuts of Detective Films, Film d'Art, Peplum, Griffith and the Russian Film Industry
2
This is a work in progress as I am still researching the year 1908 in film. I've added 307 films to my index so far whereas IMDb has over 4,000 entries. I think I may have, however, found most of the surviving films. Conclusions drawn will be based on the data I've gathered so far and this article will be revised as my research continues.
Of those 307 films 141 were produced in France and 67 of those by the Pathé frères company which dominated the world market in the early 20th Century. Films released by Georges Méliès' Star Film Company account for 57 films and there are 14 films from Gaumont and one each from Le Film d'Art, Film Artistique Chantant and Société des phonographes et cinématographes Lux. So far I have 82 films from the USA. Only 5 from the Edison Company, 64 from American Mutoscope & Biograph (AM&B), and 9 from the Vitagraph company. There are 30 films from Germany, mostly Tonbilder. More on Tonbilder later. There are 22 films from the UK and two from Russia, Sten'ka Razin and Drama v tabore podmoskovnykh tsygan (Drama in a Gypsy Camp Near Moscow), the first produced in that country. There are also films from Denmark (3), Italy (5), Poland (1), Austria (12 – all but one produced by Johann Schwarzer – more on this below), Spain (3) and the Republic of Macedonia (6 – all produced by the Manaki Brothers).
Pathé produced the longest film of the 307, L'Assommoir, based on the novel by Émile Zola and directed by Albert Capellani. It runs for 35 minutes. Of the 307 films I've indexed, 195 are available on YouTube and included in the public playlist, 51 are held in archives with 40 of those held in the Paper Print Collection at the Library of Congress and 25 of those are films directed by D.W. Griffith. Old Issacs, the Pawnbroker, an AM&B film directed by Wallace McCutcheon, is only available on DVD at the moment. Four of the UK films are only available to view on the British Film Institute's screenonline.org which is restricted to libraries and educational institutions in the UK. So far I have indexed 45 lost films but there are certainly many more.
Eleven of the twelve Austrian films were produced and directed by Johann Schwarzer who made erotic films from 1906 to 1910. Only three made in 1908 survive in complete form. As these films contain nudity and cannot be made public on YouTube I have added them to this unlisted playlist. The other eight are fragments of films and at present only available on DVD.
Significant Events of the Year in the Film Industry
France
Film d'art
"Film d'art or art film is a theory or category of film that considers film as very closely tied to and perhaps an extension of the literary arts, specifically, theater and the novel. Prior to the development of film d'art, the cinema was a largely popular, almost purely diversionary medium, driven by spectacle, and while there was a move toward narrative from the very beginning, and even an effort to link cinema to art, it was film d'art that represented the most serious effort to tie cinema to high culture forms like literature and the theater. The term comes from the name of a short-lived studio and production company, Studio Film d'art, which specialized in the genre. Film d'art was not the only studio, however, to develop the film d'art. Pathé, which had been one of the investors in Studio film d'art, also started up a film d'art division, called Société Cinématographique des Auteurs et des Gens de Lettres (SCAGL).
The investment in film d'art helped elevate the status of cinema, especially in France, where the form is considered "the seventh art." It pushed early cinema firmly in the direction of narrative cinema (as opposed to the cinéma d'attractions) and created a demand for more developed storylines and certainly for better costumes and scenery, which lead to escalating production costs. It also had one other, probably unintended, consequence. Since films based on theatrical productions created an appetite for well-known theater actors, Pathé and the other studios which were engaged in the production of films d'art began to advertise the presence of well-known stage actors in their films, and it was this practice that led to the much more widespread practice of listing credits for performances and technical contributions in film production. Prior to the development of film d'art, nearly all performances and technical contributions were anonymous."
L'Assassinat du duc de Guise
(
The Assassination of the Duke de Guise
) was one of the first and most successful films to be made by Le Film d'Art. It is a French historical film directed by Charles le Bargy and André Calmettes, adapted by Henri Lavedan, and featuring actors of the Comédie-Française and prominent set designers. It is one of the first films to feature both an original film score, composed by Camille Saint-Saëns, and a screenplay by an eminent screenwriter. An incomplete version of the film without the score is included in the playlist. There are other versions of the film on YouTube that attempt to match the score to the film but as a complete version of the film hasn't survived it isn't really possible to sync the two.
The First Detective Serial
Nick Carter, le roi des détectives (1908) was a French silent serial film based on the popular American novels featuring master detective Nick Carter. It was written by Georges Hatot and directed by Victorin-Hippolyte Jasset for the Éclair company. It was released in six episodes, each of which told a complete story, but their release was timed at approximately fortnightly intervals to create a sense of continuity with the audience. The stories were set in Paris. All episodes are presumed to be lost. This was the first serial film and paved the way for the works of Louis Feuillade and many others. This can also be considered the first detective film unless you count Sherlock Holmes Baffled, a 30 second AM&B film made in 1900, which from the plot synopsis seems more like a trick film that happens to use the name of the famous fictional character rather than a detective film.
The Directorial Debut of Émile Cohl and the First Fully Animated Film
"Émile Cohl, French caricaturist of the largely forgotten Incoherent Movement, cartoonist, and animator, called "The Father of the Animated Cartoon" and "The Oldest Parisian" made his directorial debut in 1908 with what is considered the first fully animated film using what came to be known as traditional animation methods: the 1908 Fantasmagorie. The idea for doing animation was born from the huge success of the film The Haunted Hotel, released by Vitagraph and directed by J. Stuart Blackton. It premiered in Paris in April 1907 and there was immediately a demand for more films using its incredible object animation techniques. According to a story told by Arnaud in 1922, Gaumont had ordered his staff to figure out the "mystery of The Haunted Hotel." Cohl studied the film frame by frame, and in this way discovered the techniques of animation. Cohl, who was always seeking to enlarge his reputation in later life, never corroborated this story. Also, there were a fair number of films released before 1907 with stop-motion and/or drawn animation in them, by Blackton and others, any one of which could have taught Cohl animation, if he didn't just work the technique out on his own. The main reason The Haunted Hotel is significant is the fact that it was popular enough to make the arduous work of animation profitable.
Cohl made Fantasmagorie from February to May or June 1908. It was made up of 700 drawings, each of which was double-exposed (animated "on twos"), leading to a running time of almost two minutes. Despite the short running time, the piece was packed with material devised in a "stream of consciousness" style. It borrowed from Blackton in using a "chalk-line effect" (filming black lines on white paper, then reversing the negative to make it look like white chalk on a black chalkboard), having the main character drawn by the artist's hand on camera, and the main characters of a clown and a gentleman (this taken from Blackton's Humorous Phases of Funny Faces). The film, in all of its wild transformations, is a direct tribute to the by-then forgotten Incoherent movement. The title is a reference to the "fantasmograph", a mid-Nineteenth Century variant of the magic lantern that projected ghostly images that floated across the walls.
Fantasmagorie was released on 17 August 1908. This was followed by two more films, Le Cauchemar du fantoche and Un Drame chez les fantoches, all completed in 1908. These three films are united by their chalk-line style, the stick-figure clown protagonists, and the constant transformations. Cohl made the plots of these films up as he was filming them. He would put a drawing on the lightbox, photograph it, trace onto next sheet with slight changes, photograph that, and so on. This meant that the pictures did not jitter and the plot was spontaneous. Cohl had to calculate the timing in advance. The process was demanding and time-consuming, which is probably why he moved away from drawn animation after Un Drame chez les fantoches."  – Wikipedia
There are seven films, one a collaboration with Étienne Arnaud, directed by Cohl in the playlist including the three animation films mentioned above.
Germany
Tonbild is a term for early cinema films with synchronous sound (recorded and played back using the pin-tone method). In Germany, the production of Tonbilder began around 1903: the camera filmed actors using the playback process to a sound recording on a shellac record. In the cinema, the projector (usually still hand-cranked) was synchronized with the gramophone. The short films mainly showed popular pieces of music from opera, operetta and revue. There were even special audio-visual theaters for this extremely popular genre. Before the start of the First World War in 1914, the brief era of sound films ended again. Filmed in large numbers around 1908, they are now among the rarities of early film heritage. Below is a playlist of Tonbilder from 1907-1909. The 1908 Tonbilder are also included in the 1908 playlist.
Italy: Origin of the Spectacle Film and the Peplum Genre
Gli ultimi giorni di Pompeii (The Last Days of Pompeii) is a 1908 Italian silent historical film directed by Arturo Ambrosio and Luigi Maggi and starring Lydia De Roberti and Umberto Mozzato. It was loosely based on the novel of the same title by Edward Bulwer-Lytton. The film was a success on its release, and its popularity is credited with starting a fashion for epic historical films such as Quo Vadis? (1913) and Cabiria (1914) and is considered a precursor to the sword-and-sandal or peplum film genre. Some sources cite La presa di Roma (1905) as the first proto-peplum film but it was set in 1870 not in antiquity. Gli ultimi giorni di Pompeii survives and is included in the playlist.
United Kingdom: Introducing Kinemacolor
The 8-minute film A Visit to the Seaside, directed by George Albert Smith, was the first commercially-produced film in natural color – using the revolutionary Kinemacolor process (a two-color additive process) invented by Smith himself. Though Smith had made test films using the process as early as 1906, A Visit to the Seaside was the first to be exhibited in public, first at a trade demonstration in 1908 and for the general public in 1909. The film is extant and included in the playlist.
United States: The Edison Trust and D.W. Griffith
"The Motion Picture Patents Company (MPPC, also known as the Edison Trust), founded in December 1908 and terminated seven years later in 1915 after conflicts within the industry, was a trust of all the major US film companies and local foreign-branches (Edison, Biograph, Vitagraph, Essanay, Selig Polyscope, Lubin Manufacturing, Kalem Company, Star Film Paris, American Pathé, Phonoson-Coles, Kinemacolor), the leading film distributor (George Kleine) and the biggest supplier of raw film stock, Eastman Kodak. The MPPC ended the domination of foreign films on US screens, standardized the manner in which films were distributed and exhibited within the US, and improved the quality of US motion pictures by internal competition. But it also discouraged its members' entry into feature film production, and the use of outside financing, both to its members' eventual detriment. The MPPC was very reluctant to make the changes necessary to distribute feature films. Edison, Biograph, Essanay, and Vitagraph did not release their first features until 1914, after dozens, if not hundreds, of feature films, had been released by independents.
Many independent filmmakers, who controlled from one-quarter to one-third of the domestic marketplace, responded to the creation of the MPPC by moving their operations to Hollywood, whose distance from Edison's home base of New Jersey made it more difficult for the MPPC to enforce its patents. The Ninth Circuit Court of Appeals, which is headquartered in San Francisco, California, and covers the area, was averse to enforcing patent claims. Southern California was also chosen because of its beautiful year-round weather and varied countryside; its topography, semi-arid climate and widespread irrigation gave its landscapes the ability to offer motion picture shooting scenes set in deserts, jungles and great mountains. Hollywood had one additional advantage: if a non-licensed studio was sued, it was only a hundred miles to 'run for the border' and get out of the US to Mexico, where the trust's patents were not in effect and thus equipment could not be seized."  – Wikipedia
"There has been a tendency in modern film scholarship to view the narrative form of motion pictures as a development of an overall production system. Although narrative film was and continues to be strongly influenced by a combination of economic, technological, and social factors, it also owes a great deal to the individual artists who viewed film as a medium of personal expression. Chief among these innovators was D.W. Griffith. It is true that Griffith's self-cultivated reputation as a Romantic artist—"the father of film technique," "the man who invented Hollywood," "the Shakespeare of the screen," and the like—is somewhat overblown. It is also true that by 1908 film narrative had already been systematically organized to accommodate the material conditions of production. Griffith's work nevertheless transformed that system from its primitive to its classical mode. He was the first filmmaker to realize that the motion-picture medium, properly vested with technical vitality and seriousness of theme, could exercise enormous persuasive power over an audience, or even a nation, without recourse to print or human speech.
Griffith began his film career in late 1907 as an actor. He was cast as the lead in the Edison Company's Rescued from an Eagle's Nest (1907) and also appeared in many Biograph films. He had already attempted to make a living as a stage actor and a playwright without much success, and his real goal in approaching the film companies seems to have been to sell them scripts. In June 1908 Biograph gave him an opportunity to replace its ailing director, George ("Old Man") McCutcheon, on the chase film The Adventures of Dollie. With the advice of the company's two cameramen, Billy Bitzer (who would become Griffith's personal cinematographer for much of his career) and Arthur Marvin (who actually shot the film), Griffith turned in a fresh and exciting film. His work earned him a full-time director's contract with Biograph, for whom he directed more than 450 one- and two-reel films over the next five years.
Griffith's first experiments were in the field of editing and involved varying the standard distance between the audience and the screen. In Greaser's Gauntlet, made one month after Dollie, he first used a cut-in from a long shot to a full shot to heighten the emotional intensity of a scene. In an elaboration of this practice, he was soon taking shots from multiple camera setups—long shots, full shots, medium shots, close shots, and, ultimately, close-ups—and combining their separate perspectives into single dramatic scenes. By October 1908 Griffith was practicing parallel editing between the dual narratives of After Many Years, and the following year he extended the technique to the representation of three simultaneous actions in The Lonely Villa, cutting rapidly back and forth between a band of robbers breaking into a suburban villa, a woman and her children barricaded within, and the husband rushing from town to the rescue. This type of crosscutting, or intercutting, came to be known as the "Griffith last-minute rescue" and was employed as a basic structural principle in both The Birth of a Nation and Intolerance. It not only employed the rapid alternation of shots but also called for the shots themselves to be held for shorter and shorter durations as the parallel lines of action converged; in its ability to create the illusion of simultaneous actions, the intercut chase sequence prefigured Soviet theories of montage by at least a decade, and it remains a basic component of narrative film form to this day.
Another area of experiment for Griffith involved camera movement and placement, most of which had been purely functional before him. When Biograph started sending his production unit to southern California in 1910, Griffith began to practice panoramic panning shots not only to provide visual information but also to engage his audience in the total environment of his films. Later he would prominently employ the tracking, or traveling, shot, in which the camera—and therefore the audience—participates in the dramatic action by moving with it. In California, Griffith discovered that camera angle could be used to comment upon the content of a shot or to heighten its dramatic emphasis in a way that the conventionally mandated head-on medium shot could not; and, at a time when convention dictated the flat and uniform illumination of every element in a scene, he pioneered the use of expressive lighting to create mood and atmosphere. Like so many of the other devices he brought into general use, these had all been employed by earlier directors, but Griffith was the first to practice them with the care of an artist and to rationalize them within the overall structure of his films."   – Encyclopedia Britannica
Births
Several famous actors were born in 1908:
January 16 – Ethel Merman, American actress, singer (died 1984)
February 22 – John Mills, English actor (died 2005)
March 5 – Rex Harrison, English actor (died 1990)
March 7 – Anna Magnani, Italian actress (died 1973)
March 20 – Michael Redgrave, English actor (died 1985)
April 5 – Bette Davis, American actress (died 1989)
April 30 – Eve Arden, American actress (died 1990)
May 20 – James Stewart, American actor (died 1997)
May 30 – Mel Blanc, American voice actor (died 1989)
May 31 – Don Ameche, American actor (died 1993)
July 12 – Milton Berle, American actor (died 2002)
July 18 – Lupe Vélez, Mexican actress (died 1944)
August 30 – Fred MacMurray, American actor (died 1991)
October 6 – Carole Lombard, American actress (died 1942)
November 16 – Burgess Meredith, American actor (died 1997)
December 13 – Van Heflin, American actor (died 1971)
December 25 – Helen Twelvetrees, American actress (died 1958)
December 28 – Lew Ayres, American actor (died 1996)
See Wikipedia for the complete list.
Film Journals Founded in 1908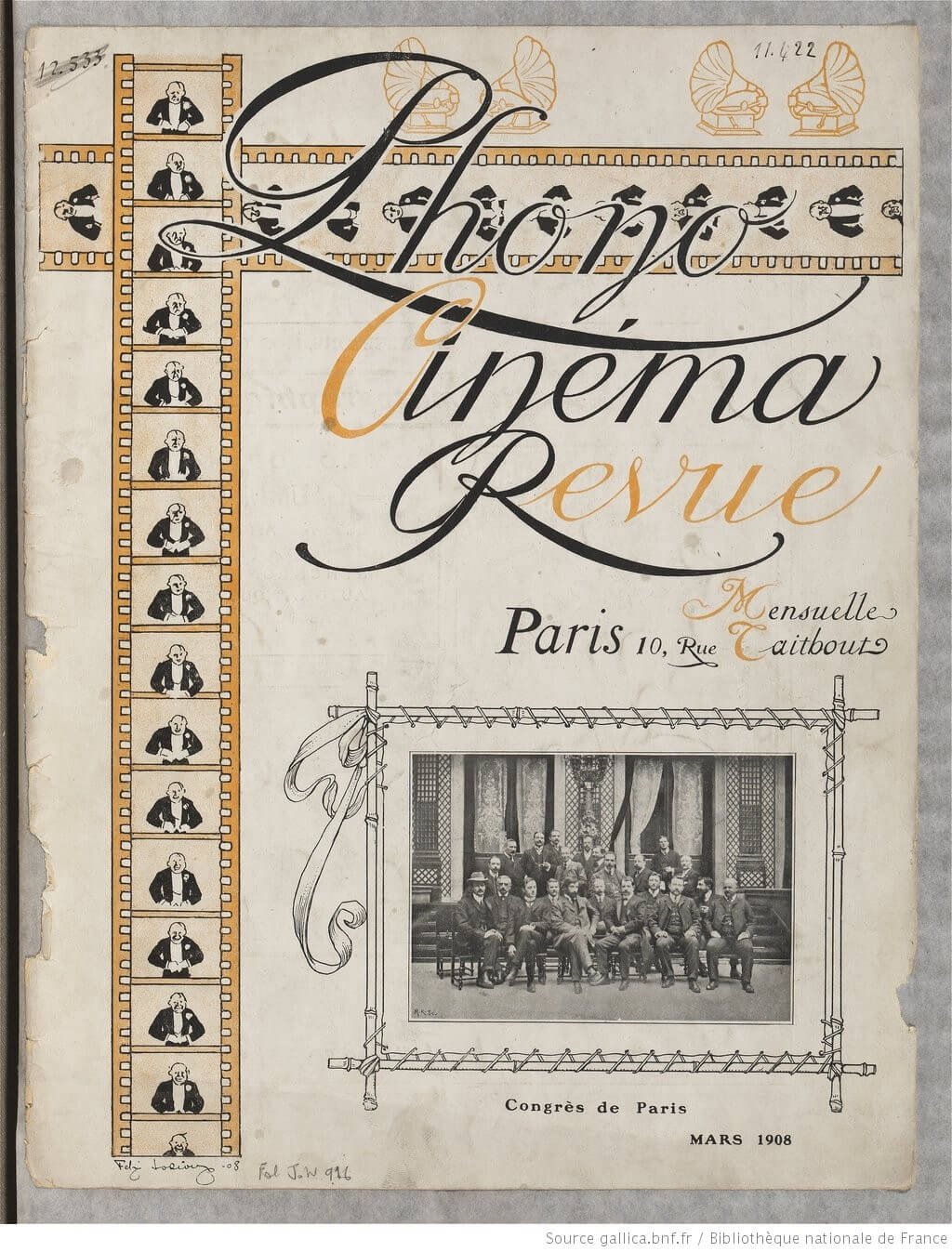 Cinematógrafo, Colombia. Issues from 1908-1909 here.
Ciné-Journal, France 1908-1937. First issue here.
Phono-cinéma-revue, France. Two issue covers here.
Fiandreide, Italy
Stjernen, Sweden
Moving Picture News, USA. Merged with The Exhibitors' Times in 1913 and became Motion Picture News which was merged with Exhibitors' Herald World to form the Motion Picture Herald in 1930 and was published until December 1972.
The Playlist
The films are arranged in chronological order of release date but films for which the month and day of release cannot be determined appear at the beginning of the playlist in alphabetical order. The total running time of the playlist is a little over 20.5 hours.

Previous article in this series: The Year 1907 in Film.