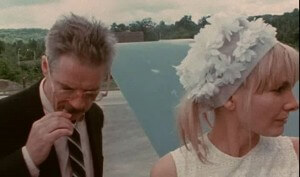 Barbara Loden (1932-1980) was the first woman to write, direct, and star in her own feature film, Wanda, which was never widely released and has remained somewhat neglected even though it won the International Critics Award at the 1970 Venice Film Festival and was praised by New York film critics. Wanda is semi-autobiographical for Loden who grew up in an environment similar to the film's eponymous central character. Loden left her impoverished life in North Carolina at age sixteen for New York where she worked as a pin-up girl, dancer, and eventually started acting in Broadway productions. She met Elia Kazan in 1955, became his mistress, and they married in 1967. Kazan cast her in his films Wild River (1960) and Splendor in the Grass (1961). She won a Tony Award for her performance in Arthur Miller's After the Fall (1964) which Kazan directed.
Loden got the idea for Wanda from a news article about a woman who was sentenced to twenty years in prison for her part in a bank robbery. What struck her about the story was that the woman thanked the judge for sentencing her. As the film begins, Wanda has left her husband and children and sleeps on a sofa at her sister's house. She passively grants her husband a divorce and relinquishes her rights to the children saying they'd be better off with him. After getting shortchanged and fired from her job at a factory she starts wandering, has a one-night stand with a traveling salesman in exchange for a glass of beer, and has all her money stolen when she falls asleep in a movie theatre. When she enters a bar, unknowingly interrupting a robbery in progress, we are introduced to Mr. Dennis, played by Michael Higgins, the only other professional actor in the film besides Loden. This is where the film takes on a narrative structure that feels familiar as Wanda and Dennis embark on a road trip in a stolen car committing petty thefts. Asked if she was influenced by Arthur Penn's Bonnie and Clyde (1967), Loden responded, "I wrote the script about ten years before Arthur Penn made Bonnie and Clyde," replied Loden. "I didn't care for [it] because it was unrealistic and it glamorized the characters… People like that would never get into those situations or lead that kind of life – they were too beautiful… Wanda is anti-Bonnie and Clyde."
Not only is Wanda anti-Bonnie and Clyde but it's also anti-Hollywood. Loden despised slick Hollywood films and found the acting style in them to be too theatrical. As for her performance in the film, Loden is Wanda. You never get the impression that she's an actress playing a part. In fact, if one was unfamiliar with Loden and Higgins as actors it would be easy to get the impression that the film is a documentary. The film was shot in cinéma-vérité style and edited by documentary filmmaker Nicholas Proferes with 16mm film that was blown up to 35mm. Proferes was responsible for the framing, camera placement and movement while Loden concentrated on the actors. The film most closely resembles the early work of John Cassavetes though the performances are much more low-key in Wanda. In an interview Proferes stated Loden "was very self-effacing, and never intended the film for release… This was a way to take the pressure off – the pressure to produce a work of art – if it didn't turn out half-way decently."
Though critical response was generally favorable, one writer, Marion Meade, found what she perceived as the "message" in Wanda disturbing. "But now Barbara Loden arrives at the crux of the problem, which is, where do you go after you reject the only life society permits? And once a woman gains her freedom, what can she do with it? The answer: nowhere and nothing." I don't think Loden intended Wanda to be a statement or convey a feminist or anti-feminist message. Wanda is a character study of someone whose plight in life Loden related to. As Loden said about the character, "She doesn't know what she wants—but she knows what she doesn't want. And she's trying to get out of this very ugly type of existence. But she doesn't have the equipment." In her in-depth review For Wanda, Bérénice Reynaud writes, "Loden wanted to suggest, from the vantage point of her own experience, what it meant to be a damaged, alienated woman – not to fashion a 'new woman' or a 'positive heroine'."
After Wanda won the award at the Venice Film Festival Loden began to think of herself as a director. Kazan wrote in his autobiography, "when I first met her, she had little choice but to depend on her sexual appeal. But after Wanda she no longer needed to be that way, no longer wore clothes that dramatised her lure, no longer came on as a frail, uncertain woman who depended on men who had the power… I realised I was losing her, but I was also losing interest in her struggle… She was careless about managing the house, let it fall apart, and I am an old-fashioned man." Kazan "didn't really believe she had the equipment to be an independent filmmaker" and didn't encourage her to make more films. After Wanda the only films she made were two shorts for The Learning Corporation of America in 1975 though she continued writing screenplays, directing Off-Off-Broadway productions, and taught an acting class until her death from breast cancer at age 48 in 1980.  Like her character in Wanda, Loden found that once she gained her independence most doors were closed to her in the film business. Like Wanda's husband, Kazan had convinced her to divorce him as they had grown apart but the breast cancer was discovered shortly afterwards and they remained married until her death.
★★★★★★★☆☆☆ (7/10)
Wanda at imdb.com
As of February, 2016 Wanda is available to rent on DVD from Netflix.