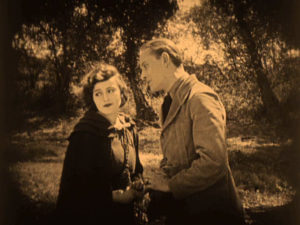 The Mayflower Photoplay Company was a small independent production company that produced twelve films, including Unseen Forces, in the three years of its existence from 1919 – 1922. It employed a few directors who would go on to bigger and better things such as Allan Dwan, Raoul Walsh, and the director of Unseen Forces, Sidney Franklin. The story is based on the novel Athalie by Robert W. Chambers, whose collection of short stories The King in Yellow is considered by some to be one of the most important works of American supernatural fiction. Unseen Forces is the story of Miriam, a woman born with psychic abilities which enable her to see the future, the past, and the spirit bodies of those who have passed on. Her father owns a tavern near New York where wealthy businessmen come to stay for vacations. One of the businessmen, Robert Brunton, brings his young son, Clyde, to the tavern one summer where he forms a bond with Miriam. The next time they meet they have grown up and they fall in love but due to a misunderstanding, Clyde gets the impression that Miriam is in love with someone else so he leaves on an expedition to Africa in order to forget her. Upon returning he enters into a loveless marriage with a social climber. In the meantime, after her father's death, Miriam moves to New York City to begin using her abilities to help others though it takes a toll on her health. By coincidence she meets Clyde again and her psychic powers reveal a connection between Clyde's wife and a man who has been making unwelcome advances towards Miriam. Despite the supernatural element, the story is basically a romance, the genre that Chambers turned to when his supernatural tales ceased to generate sufficient income. Miriam was played by Sylvia Breamer, an Australian stage actress who retired at the beginning of the sound era at the age of 33. Conrad Nagel, who played Clyde, enjoyed a long career in Hollywood, appearing in The Divorcee (1930), and All That Heaven Allows (1955) among many other films.
★★★★★★☆☆☆☆ (6/10)
Unseen Forces at imdb.com
As of June, 2016, Unseen Forces is available to stream at filmpreservation.org.