The Long Voyage Home (1940)
0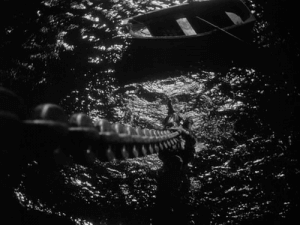 John Ford spent a lot of time on the set of F.W. Murnau's 1927 film Sunrise studying the director's methods, particularly compositions, camera movement, and lighting.  According to reviewer Allan Peach, "Expressionistic elements are common in many Ford films after 1927, but The Informer (1935) and The Long Voyage Home mirror the German silent film more than any other American film until Woody Allen's less than successful Shadows and Fog." Indeed, the first five minutes of the film is very much like a silent film with hardly a word of dialogue.  The cinematography is by Gregg Toland who also shot Ford's The Grapes of Wrath (1940) and who would be the cinematographer for the first film of a great admirer of Ford's, Orson Welles. The screenplay is an adaptation of four one-act plays about merchant seamen by Eugene O'Neill who regarded this film as his favorite cinematic adaptation of his work. Dudley Nichols, who also wrote the screenplay for Ford's Stagecoach (1939), does an admirable job of seamlessly combining the four stories into one so the film doesn't seem episodic. Though John Wayne is top billed he is a rather minor character in an ensemble cast. He plays a Swede who rarely speaks but when he does it's in broken English with a Swedish accent; a rather atypical role for him. Ian Hunter is a standout as an alcoholic English gentleman who is clearly running away from something as is Thomas Mitchell who plays a feisty Irishman to whom the rest of the crew look up to as a leader.  The film was nominated for six Academy Awards and though it won none, Ford won Best Director for The Grapes of Wrath.
★★★★★★★★☆☆ (8/10)
The Long Voyage Home at imdb.
As of December, 2015 The Long Voyage Home is available to rent from Classicflix.com.