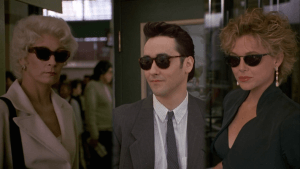 "Grifters got an irresistible urge to beat a guy who's wise. There's nothing to whipping a fool. Fools are made to be whipped, but to take another pro, who knows you, who has his eye on you, now that's a score." So says Mintz, Roy Dillon's mentor in this adaptation of the Jim Thompson novel of the same name. Part of the fun of films about con games is the elaborate planning that goes into scamming the mark as in The Sting (1973) or in the complexity of the con as in House of Games (1987). The Grifters provides some of that fun when we're shown how Roy operates his nickel and dime cons or in a flashback while we witness a more elaborate con which Roy's girlfriend, Myra, was involved in or we see how Roy's mother, Lilly, works the horse races. But when these three con artists turn on each other the story becomes dark and disturbing, "as if pulp fiction meets Greek tragedy," as director Stephen Frears put it.
Dark and disturbing was Jim Thompson's trademark. Also known as the "Dimestore Dostoevsky," he often chose to write about grifters, losers, and psychopaths in order to express his nihilistic point of view. Other Thompson novels adapted to film include The Getaway, The Killer Inside Me, and After Dark, My Sweet, the latter of those was also released in 1990. Thompson wrote the screenplays for two early Kubrick films, The Killing and Paths of Glory though he was not properly acknowledged for his work by Kubrick. Another screenplay written for Kubrick, Lunatics at Large, was misplaced and only rediscovered after Kubrick's death.
The film adaptation of The Grifters was the first product of Martin Scorsese's own independent production company. Initially he planned to direct but brought in Frears so he could make Goodfellas instead. He also hired Donald E. Westlake, himself a prominent crime novelist, to write the screenplay. Westlake was nominated for an Oscar, losing to Michael Blake for Dances With Wolves. Anjelica Huston, who played Lilly Dillon, was nominated for Best Actress, losing to Kathy Bates in Misery. Annette Bening (Myra) lost Best Actress in a Supporting Role to Whoopi Goldberg in Ghost and Frears' nomination for Best Director was trumped by Kevin Costner for Dances With Wolves.  The classy score by Elmer Bernstein (To Kill a Mockingbird) evokes the classic noir era without sounding old-fashioned.  Like After Dark, My Sweet, the film does not visually mimic classic noir conventions. Both are set in sunny Southern California though there are subtle suggestions of previous eras in The Grifters with wardrobes and interiors. Though critically acclaimed at the time, the film wasn't a hit at the box office but has since developed a strong cult following. It's plain to see that The Grifters had an influence on the pulp revival of the early 90's, Reservoir Dogs (1992), with its ubiquitous sunglasses and skinny ties being one of the most obvious examples.
★★★★★★★★☆☆ (8/10)
The Grifters at imdb.
As of August, 2019, The Grifters is available to stream at amazon.com.