The Great Dictator (1940)
0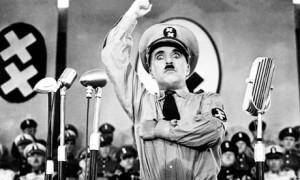 Charles Chaplin was at one time arguably the most popular entertainer in the world. As mentioned in a previous post, he formed United Artists along with Douglas Fairbanks, Mary Pickford, and D.W. Griffith in 1919 which gave him complete artistic control over his films. Like many silent film stars he found the transition to sound films troublesome. His solution was to simply continue making silent films. City Lights (1931) was a great success despite the fact that silent films had become outdated by the time the film was released. It is considered one of his finest films and was his personal favorite. Chaplin, however, was unsure if he could continue making silent films and decided to take a vacation, traveling around the world for 16 months. During his travels he met with world leaders and developed a keen interest in world affairs, particularly the plight of workers in America. This concern led to the making of his next film Modern Times (1936) in which he takes on Henry Ford and capitalism. Upon his return to Los Angeles in 1932 Chaplin met and fell in love with Paulette Goddard, who had been a child model and debuted in "The Ziegfeld Follies" at age 13. She moved to Hollywood in 1931 making mostly uncredited appearances in several films until Chaplin cast her in Modern Times. Chaplin, financially independent and a perfectionist, was taking more and more time to develop and execute his films so Goddard, wanting to capitalize on the success of Modern Times, found roles in other films. They married in 1936 but were separated by the time The Great Dictator, in which she has a prominent role, was released in 1940.  Chaplin had a lifelong obsession with Napoleon and was developing a project in which he would portray the leader while he was filming Modern Times. However, his concern with the rise of fascism and antisemitism in Europe led to the abandonment of the Napoleon project and his work on The Great Dictator which he began developing in 1937. Filming began in 1939, six days after Britain declared war on Germany. This was a controversial project. Hollywood had shied away from openly criticizing Hitler before America entered the war. They feared losing European markets. Isolationism, fascism, and antisemitism were alive and well in America. Many felt that Chaplin was wrong to make light of the situation and some Jews in the film industry tried to dissuade him fearing that the film would make matters worse for Jews in Europe. Other Jews saw Chaplin as David taking on Goliath. Even FDR encouraged him to complete the film. Chaplin later said that had he known the full extent of Hitler's policies he would've never made the film. Chaplin and Hitler had more in common than their mustaches. Both were born in 1889, only four days apart. Both were born in poverty and rose to world prominence after leaving their homeland. Both loved Wagner's music which plays a part in two significant scenes in the film.  Though Roger Ebert gives The Great Dictator his highest rating and includes it  in his list of great films, he criticizes the speech which closes the film, writing "It didn't work then, and it doesn't work now." As far as I'm concerned the whole film exists for the speech and is the main reason why the film is still highly regarded. The film is mostly slapstick and low humor which is amusing enough though hardly memorable but the end of the film is perhaps the most emotionally stirring experience in all cinema. Chaplin was rightfully proud of the speech and defended it until his dying day. He even asked John Steinbeck to help him write it though Steinbeck's contributions were rejected in the final version.  The Great Dictator was Chaplin's first talkie and the last film in which the Tramp character would appear. The film was banned in Italy, Germany, Ireland, and some South American countries. According to records of Hitler's film screenings he watched the film twice. Financially it was Chaplin's most successful film but heralded his decline in popularity due to the increasing political nature of his films and writing. J. Edgar Hoover conducted a smear campaign against Chaplin in the forties and during the McCarthy era he was accused of being a communist and banned from the U.S. in 1952.
★★★★★★★★★★ (10/10)
The Great Dictator at imdb.
As of September, 2015 The Great Dictator (Criterion Edition) is available to rent from Netflix.