The Breaking Point (1950)
0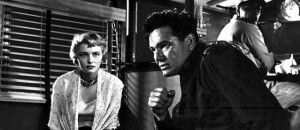 Ernest Hemingway's novel To Have and Have Not has been adapted to film several times. The first, and most famous, is the Howard Hawks film To Have and Have Not (1944) with Humphrey Bogart and Lauren Bacall. It has little in common with Hemingway's novel other than the title, the name of the protagonist, and his occupation. The third cinematic adaptation was The Gun Runners  (1958), directed by Don Siegel with Audie Murphy in the lead role. The Breaking Point is most faithful to the novel and of all the film versions of his novels this was Hemingway's favorite. The original setting in Florida during the Great Depression has been changed to California after WWII. Central character Harry Morgan (John Garfield) was a PT boat captain in the war who's having a hard time fitting into the postwar prosperity bubble like many returning servicemen. He charters his boat for sport fishing but can't seem to keep up on the payments on his boat and support his wife Lucy (Phyllis Thaxter) and two kids. Whereas the Hawks film transformed Hemingway's novel into a tale of patriotism, The Breaking Point  is mostly about the post-war crisis of masculinity.
After a disastrous charter trip to Mexico Harry tells his wife Lucy to lay off him because he's had a rough three weeks:
Lucy: Don't give me that purple heart routine. You've got a wife and two kids to think about. Keeping us together, getting us enough to eat, clothes for our backs. That's the biggest war there is and you better realize it.
Harry: It's war all right and I'm scared.
It's on that trip to Mexico that Harry meets Leona Charles (Patricia Neal), a good-time girl who tries hard to seduce Harry who truly loves his wife. Some reviewers felt the Leona character existed only to give the film some sex appeal but I disagree. When her attempts to seduce Harry are unsuccessful she has her own crisis of identity that mirrors Harry's.  Her line, "I don't like to think I'm not exciting, haven't got much else" is echoed later by Harry's: "All I got left to peddle is guts." Their relationship is just as important to the film as Harry's relationship to his wife.
Director Michael Curtiz who is best known for Casablanca (1942) also helmed Four Daughters (1938) which was Garfield's screen debut that catapulted him to stardom. Garfield, born of poor Jewish immigrants, grew up in the Lower East Side of New York City and was a gang leader until he was introduced to acting in reform school. Lawrence Swindell writes in his biography: ""Garfield's work was spontaneous, non-actory; it had abandon. He didn't recite dialogue, he attacked it until it lost the quality of talk and took on the nature of speech." He is considered a predecessor to Method actors like Marlon Brando, James Dean, and Montgomery Clift. Garfield's liberal political views caused him to be investigated by the HUAC to whom he refused to name names which put an end to his film career. Due to  a childhood case of scarlet fever, he had a weak heart and died aged 39 in 1951. Some say the investigation hastened his death. Ironically, after his death, the committee cleared him of any wrongdoing.
Warner Brothers did little to promote the film upon its release owing perhaps to the investigation. Due to a legal dispute the film wasn't aired or released on DVD until 2011.  Perhaps now it will gain the wider appreciation that it deserves.
★★★★★★★★☆☆ (8/10)
The Breaking Point at imdb
As of March, 2016 The Breaking Point is available to buy on DVD or stream at Amazon.com.