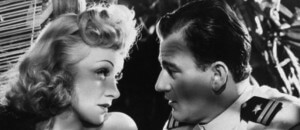 How much you like this will probably depend on how much you like Marlene Dietrich as it was written to showcase her. I don't find her attractive but I've never seen her look better than she does in this film. Can't say she sings any better in this film. John Wayne, whose career was catapulted from B movies into stardom the previous year thanks to John Ford's Stagecoach, plays a naval officer who becomes smitten with a saloon singer (Dietrich). Broderick Crawford plays a dumb lug, a role he played often and came to detest before his breakthrough in All the King's Men (1949). This is lightweight fare which occasionally seems headed for more depth but never goes there. The cinematography is good with intriguing compositions of shadow and light but what else would you expect from Rudolph Maté whose credits include The Passion of Joan of Arc (1928) and Foreign Correspondent (1940).
★★★★★★☆☆☆☆ (6/10)
Seven Sinners at imdb.
As of August, 2019 Seven Sinners is available on DVD from amazon.com.