The Little Shop of Horrors (1960)
0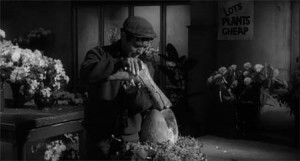 Shot in two days on a $30,000 budget using leftover sets from another film this Corman quickie is a hilarious sendup of police procedurals. A lot of the humor is in Mel Welles' portrayal of Gravis Mushnick, a skid row florist and his unique take on the English language: Girl asking about Seymour's plant: "I mean doesn't it have a scientific name?" Mushnick: "Yes of course but who could denounce it? You would like maybe to buy something?" Every character in the film is wacko from Burson Fouch (Dick Miller) who buys flowers in order to eat them to Mrs. Hortense Fishtwanger from the  Society of Silent Flower Observers of Southern California to the masochistic Wilbur Force (Jack Nicholson in his third film). Even the radio station that Seymour's hypochondriac mother listens to is twisted: "This is radio KSIK. You've been listening to music for old invalids. Our next selection is entitled Sickroom Serenade." The screenplay is by Charles B. Griffith who also plays a robber in the film as well as providing the voice of Audrey Jr., Seymour's man-eating plant. He is considered by some the father of American black comedy and Quentin Tarantino dedicated his film Deathproof to Griffith, citing him as one of his main influences and calling him the "father of redneck cinema." Other Corman/Griffith collaborations that have achieved cult classic status are A Bucket of Blood (1959) and Death Race 2000 (1975). I thought perhaps part of the joke was that the score seems written for a straight horror film but apparently it's the same score written for A Bucket of Blood but re-edited. In fact, composer Fred Katz sold Corman the same score as if it was new music for seven films! I was disappointed by the ending but considering that the screenplay was written in two days, the tiny budget, and time constraint (Corman had to finish before the sets were torn down) one can't really expect perfection. Corman didn't think the film had a future after its initial theatrical run so he didn't copyright it and it's in the public domain which means that outfits like Alpha Home Video can distribute lousy prints of the film. Amazon streams the same lousy print free for Prime members but they also stream the Legend Films colorized version (not free). The Legend Films DVD also has a restored B&W version and is available from Amazon.com.
★★★★★★★★☆☆ (8/10)
The Little Shop of Horrors at imdb.
As of September, 2015 The Little Shop of Horrors is available to rent from Netflix.
Dialogue from Little Shop of Horrors at allreadable.com