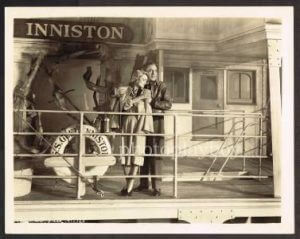 The plot device of Grand Hotel (1932) has been copied so many times that it became known as the Grand Hotel formula or theme in which a disparate group of unrelated characters are brought together by varying circumstances in an enclosed setting. Escape to Glory, a B movie from Columbia, utilizes the formula with good results. On the eve of Britain's declaration of war on Germany in 1939, a group of American passengers and one German professor board a British freighter bound for New York. Unknown to the passengers, the ship is also carrying a large shipment of gold. Among the group is a criminal intent on killing another passenger, a crooked district attorney who did him wrong. Tension mounts when the freighter is approached by a German U-boat. Much to the concern of the passengers, the crew unveils the ship's hidden weapons and fire at the U-boat. After inflicting heavy damage to the freighter the U-boat submerges as a heavy fog sets in. Now the crew and passengers of the freighter must repair the damage and figure out a way to elude a torpedo attack from the Germans. It could have been a great film if Columbia had invested more money in the production. The score and the special effects are the major weaknesses. Director John Brahm would go on to direct noir classics like Hangover Square (1945) and several episodes of The Twilight Zone, one of which, Judgment Night (1959), has a plot that shares much in common with Escape to Glory.
★★★★★★★☆☆☆ (7/10)
Escape to Glory at imdb.com
As of August, 2019 Escape to Glory is available to stream at ok.ru.