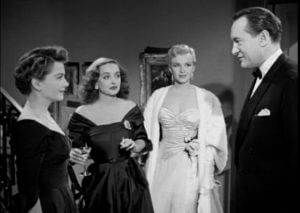 All About Eve won six Academy Awards including Best Picture, Best Director, and Best Screenplay. It was nominated for 14 Awards, a feat equaled only by Titanic (1997) though some of the categories the latter film was nominated for didn't exist in 1951. Joseph L. Mankiewicz, who wrote and directed All About Eve, is given credit for bringing a New York sensibility to American cinema. He longed to be part of the New York theater circle though he never directed a play nor had a play produced on Broadway.  Mankiewicz regarded Hollywood people with disdain, an attitude shared by the theatre people who are the subject of All About Eve, yet he liked the money, the women, and the control that came with his career as a film director.
Herman Mankiewicz, Joe's older brother, started out as a newspaperman eventually becoming one of Hollywood's highest-paid screenwriters. He co-wrote Citizen Kane (1941) with Orson Welles for which both men received Oscars. Herman helped Joe get his start in Hollywood as a screenwriter. Joe produced several films for MGM including The Philadelphia Story (1940) and began directing in 1946 after leaving MGM for 20th Century Fox. As a director Mankiewicz wasn't too interested in the visual aspect of his films. He felt that directors who employed fancy camera work and lighting were trying to draw attention to themselves and distracting the audience from the screenplay and the actors. Mankiewicz essentially wrote theatre for the big screen. In fact, Random House, which usually only published Broadway plays, published the screenplay for All About Eve. As Bill Sampson, the theatre director in the film says, "What book of rules says the theatre exists only within some ugly buildings crowded into one square mile of New York City? Wherever there's magic and make believe and an audience there's theatre."
The origin for Mankiewicz's screenplay was the short story The Wisdom of Eve written by Mary Orr and published in the May, 1946 issue of Cosmopolitan. Her story was loosely based on real events involving her friend, Viennese actress Elisabeth Bergner, and Martina Lawrence, a devoted fan who stood outside Bergner's stage door for months during a performance of a play. Bergner's husband took Martina on as an assistant. When Bergner was late for a reading with another actor Martina filled in for her, replicating Bergner's performance down to the accent and stage business. Bergner arrived in time to see Martina imitating her. Their relationship ended when one of Bergner's fans wrote to her praising Martina's reading and Martina stole the letter.
Mankiewicz took this story and embellished it with details that mirrored his own life. The conflict between a stage star on her way down, Margo Channing, and a star on her way up, Eve Harrington, is a reflection of Joe's relationship with his brother Herman. Their father, a stern taskmaster, always considered Herman the more gifted of his two sons. When Joe got started in Hollywood he was frequently referred to as Herman's kid brother. Unfortunately, as Joe's career began to rise Herman's was sinking due to his alcoholism and gambling. Joe envied Herman's Academy Award and wanted All About Eve to be his Citizen Kane. There are similarities between the films such as the flashback structure and the way the characters are introduced.
An even greater parallel exists between Margo Channing and Mankiewicz's second wife Rose Stradner, an Austrian actress who had also been upstaged by an understudy. The famous party scene where Margo gets drunk and misbehaves is typical of what went on in the Mankiewicz household according to Christopher Mankiewicz, one of Joe's sons. Like Herman, Rose was an alcoholic and like Margo, afraid of losing her husband to a younger woman and she had every reason to be since Joe was a notorious philanderer. Mankiewicz was a devotee of psychoanalysis and would use psychological jargon with his wife just as Bill Sampson does with Margo. He would ask psychiatrist Karl Menninger to analyze his screenplays to determine if he had portrayed the psychological aspects of his characters successfully.
Perhaps Mankiewicz picked up the notion that women are happier being housewives than having a career from some psychological study in the late 40's which may explain Margo's lines in the film about a woman not being complete without a man. When she announces her plans to marry Bill and turns down a part in a new play she says, "I finally have a life to live. I don't have to play parts I'm too old for just because I have nothing to do with my nights." Margo seems happy but this is one instance in the film that seems more like wishful thinking on Mankiewicz's part than a reflection of his own life. He stifled his wife's career because he felt she belonged at home. She tried to drown her unhappiness with alcohol and took her own life in 1958 at the age of 45.
In some ways life imitated the film. Bette Davis who plays Margo Channing and Gary Merrill who plays her lover Bill Sampson actually fell in love during the production. They were married shortly afterwards and remained man and wife for ten years. Anne Baxter who plays Eve Harrington insisted on being considered for the Best Actress Award instead of Best Supporting Actress which probably prevented Bette Davis from winning the Oscar for Best Actress. Mankiewicz invented the Sarah Siddons Award for the film but in 1952 a group of theatre enthusiasts in Chicago founded the Sarah Siddons Society to honor actors for their theatre performances in Chicago. The Society still exists and past recipients of the Award include Celeste Holm and Bette Davis.
Bette Davis' performance in All About Eve is considered one of her finest. Like Margo Channing her career was declining but this film initiated a brief resuscitation. George Sanders won the Best Supporting Actor Award and his performance as theatre critic Addison DeWitt is considered one of his best if not his best. The film also features Marilyn Monroe in a small role early on in her career. It is said that her presence in this film helped advance her career.
Whereas All About Eve has great writing and performances I don't consider it a great film. It's a very good film and its wittiness is a delight to the intellect but the medium of cinema is capable of so much more than capturing the performance of a well written screenplay. I consider Mankiewicz's No Way Out, released earlier in 1950, a better film as it is less theatrical and more cinematic.
★★★★★★★★☆☆ (8/10)
All About Eve at imdb.com
As of May, 2016 All About Eve  is available to rent on DVD from Netflix.com