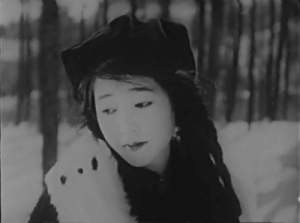 Considered a landmark in Japanese cinema, Rojô no reikion or Souls on the Road, as it is referred to in English, is based on Maxim Gorky's Lower Depths (which was also adapted by Akira Kurosawa in his 1957 film Donzoko) and Mutter Landstrasse, das Ende einer Jugend by Wilhelm August Schmidtbonn. It is a combination of three stories: a failed violinist with his wife and daughter returning on foot from Tokyo to their village, two ex-convicts also traveling to the same village, and a young rich girl of the village who falls in love with the servant of the violinist's father. Director Minoru Murata seems to have been influenced by D.W. Griffith's cross cutting technique as the narrative jumps quickly from story to story. He also makes frequent use of flashback sequences and scenes that depict what a character is imagining. The main focus is on the violinist and his father's refusal to forgive him for leaving home. In the end the three stories converge, one of them ending in tragedy and the other two more happily. Murata, who plays the young girl's love interest in the film, would direct 36 films in his career. He died in 1937, age 43.
Rojô no reikion at imdb.
As of April, 2020 Rojô no reikion is available on YouTube with English subtitles.