Miquette et sa mère (1950)
0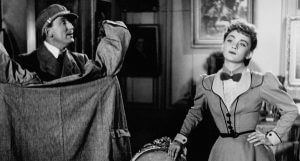 The general consensus seems to be that this is the weakest effort from French director Henri-Georges Clouzot who is probably best known for The Wages of Fear (1953) and Diabolique (1955). According to Wikipedia, Clouzot only made the film to fulfill a contract and it was neither a financial nor critical success. It is based on a comedy first produced on the stage in 1906 about a naive young girl, Miquette (Danièle Delorme), who works in her mother's variety store in a small town and dreams of being an actress much to her mother's disapproval.  She catches the eye of Monchablon (Louis Jouvet), the hammy leader of a traveling theatre group when he stops in the store. She reveals her theatrical aspirations to him and he invites her to contact him if she ever visits Paris. Urbain (Bourvil), the awkwardly shy nephew of the town's wealthiest citizen, Le marquis (Saturnin Fabre), is in love with Miquette but his uncle is pressuring him to marry an ugly heiress. When Le marquis catches the two together he chases his nephew off and, finding himself attracted to Miquette, takes her to Paris to fulfill her acting ambitions with hopes of making her his wife or mistress. In Paris she joins Monchablon's group and begins acting in comedies. Her mother arrives in Paris intending to take her back home but ends up joining the the theatre group as well. Meanwhile, Urbain, still in love, sends anonymous gifts and attends her performances. The play performed by Monchablon's group is cleverly blended with the story in the film. The use of intertitles setting the scenes and the actors making asides to the film audience lend a vaudevillian aspect. As this is the third film adaptation of the play perhaps the story was overly familiar to the French when the film was released but I found it witty and amusing. It's lightweight material, a style of entertainment the French term boulevard theatre, but if you haven't seen Clouzot's other films or if you can watch it without expecting something on par with The Wages of Fear you may be pleasantly rewarded.
★★★★★★★★☆☆ (8/10)
Miquette et sa mère at imdb.com
Although there is a DVD available on the French amazon.com I believe the only version available with English subtitles as of July, 2016 is streaming at rarefilmm.com.