Last Known Address (1970)
0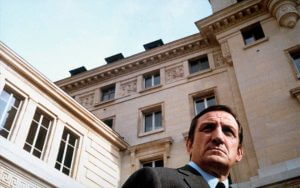 Last Known Address (Dernier domicile connu) is based on the eponymous novel, part of a trilogy of police procedurals featuring a police inspector and his rookie female partner by American writer Joseph Harrington. Lino Ventura plays the inspector, Marceau Leonetti, an efficient but sometimes brutal cop. An influential lawyer manages to malign his reputation which causes his demotion after Leonetti arrests his son for driving under the influence. Relegated to a position in a small town, Leonetti is paired up with novice Jeanne Dumas (Marlène Jobert – whose best claim to fame these days probably is being Eva Green's mother) to catch perverts in movie theaters. Their work becomes more interesting and dangerous when they are assigned to track down a witness to a murder who has eluded the police for five years. The murderer, the head of a criminal gang, is due to stand trial in a week and his henchmen are out to kill the witness before he can testify. The suspense is built in and the noir atmosphere and downbeat ending make the film seem fresh despite its age though the investigations that turn out to be dead ends felt a bit repetitive. The only things that date it are some parts of the score, editing, and camerawork. The director, José Giovanni, whose real name was Joseph Damiani, was sentenced to death for collaborating with the Nazis, blackmail, and murder but ended up spending only eleven years in prison. Upon his release he wrote his first novel Le trou, based on his attempt to escape prison. Le trou and his third novel Classe tous risques were both adapted for films which were released in 1960. Dernier domicile connu is his third directorial effort.
★★★★★★★☆☆☆ (7/10)
Last Known Address at imdb.com
As of August, 2019 Last Known Address is only available on a Region 2 DVD without English subtitles. However, a version with English subtitles is available for streaming at ok.ru.