Lady of the Camelias (1981)
0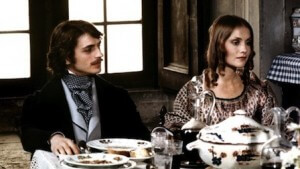 Marie Duplessis (1824-1847) was a French courtesan and mistress to several wealthy and famous men including Alexandre Dumas, fils, for whom she was the inspiration for his novel, La Dame aux camélia, which he adapted into a play which in turn became the inspiration for Verdi's opera La traviata and numerous films including Camille (1936) with Greta Garbo. Italian director Mauro Bolognini's 1981 film, La storia vera della signora dalle camelie (Lady of the Camelias), is intended as a biopic though little is known about Duplessis other than contemporary legend and what can be derived from her literary persona. Apparently she was extremely beautiful, of humble birth, and, if the film can be believed, pimped by her own father when she was still a girl. She also had TB to which she succumbed at the age of 23. She is played here by Isabelle Huppert, who in my opinion is rather ordinary looking. She is portrayed as morose and forthright with a tendency to frequently bring up the fact that she's dying. It was a stretch to imagine that so many men found her desirable. Otherwise it's a lush production with an emphasis on costumes and opulent settings.  The score by Ennio Morricone includes selections from La traviata and other classical pieces which were for me solely responsible for the one or two moments I felt moved during the film.
★★★★★☆☆☆☆☆ (5/10)
Lady of the Camelias at imdb.
As of November, 2015 Lady of the Camelias is available on DVD from MovieDetective.net.