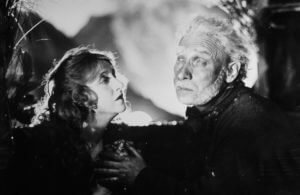 Akira Kurosawa: "The first film that really impressed me was La Roue."
Jean Cocteau: "There is the cinema before and after La Roue as there is painting before and after Picasso."
French director Abel Gance is probably best known for his epic 1927 film Napoleon. After the international success of his 1919 anti-war film J'accuse, Gance was considered one of the finest and most innovative directors in France and possibly in the world. With the financial backing of the Pathé studio he embarked on La Roue (The Wheel), which took three years to complete and in its original form ran for seven and a half to nine hours (sources disagree). During the production Gance was deeply affected by the fact that his companion Ida Danis was dying of tuberculosis and his friend and lead actor in the film, Séverin-Mars, was also severely ill. Both died shortly after shooting completed. Like Erich von Stroheim, Gance insisted on authenticity which meant sets were built on location; railroad yards for the first half of the film and on Mount Blanc in the French Alps for the second half though the decision to shoot in the Alps has been attributed to Ida's need for alpine air.
The film is notable for its groundbreaking cinematic techniques, especially the use of of rapid montage which was studied and implemented by Eisenstein, Dovzhenko, Pudovkin et al at the Moscow Academy. It appears that Gance was the first filmmaker to utilize this technique in order to represent an extreme state of mind or build tension though the opening Marcel L'Herbier's 1921 film El Dorado makes similar use of rapid cutting but not to the same degree. The story, however, is a rather maudlin melodrama about a widower railroad engineer, Sisif, who rescues a little girl from a train wreck and finding she has no parents, adopts her as his own. Flash forward fifteen years and the little girl, Norma (played by English actress Ivy Close), is a stunning beauty with whom everyone is in love with including Sisif and his son Elie, who thinks Norma is his sister. Even the four and a half hour version available on the Flicker Alley DVD is a bit of an ordeal to sit through and seems repetitious at times so it's difficult to imagine how Gance managed to stretch the story into a film almost twice that length in the original cut.
La Roue  at imdb.com
Available for streaming on Amazon Prime.