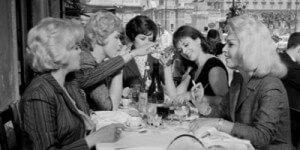 Also known as Adua e le compagne, Adua and Her Friends, and Love à la carte, this somewhat overlooked product of Italian neorealism features French actress Simone Signoret, who is probably best known for Les diaboliques (1955) and Room at the Top (1959), Emmanuelle Riva, who starred in Hiroshima mon amour (1959), and Marcello Mastroianni. The story is about four prostitutes who open a restaurant after brothels become illegal in Italy in 1958. They have the money to buy a building but are unable to obtain a license due to their past. One of their former clients agrees to help them out but expects them to practice their former profession on the sly after the restaurant gains a reputation as a respectable business. The restaurant becomes successful and the ladies dream of leading normal lives. The jazzy score reminds one of Nino Rota and Fellini's La dolce vita (1960) but the film is closer to De Sica's Bicycle Thieves (1948) in style and content. The unfortunate English title suggests salacious content but the film actually contains no nudity nor explicit sex scenes. It doesn't try to manipulate the viewer into feeling sorry for the women and doesn't even feel like a social issue film. It does cause one to reflect on how women are treated as commodities in male-dominated societies only to be cast aside when they've lost their sexual appeal. Many women have liberated themselves from the restrictive roles allotted them by men since the 1950's but judging women by their appearances rather than their abilities still seems to be the prevalent attitude.
★★★★★★★☆☆☆ (7/10)
Hungry for Love at imdb.
As of October, 2015 Hungry for Love is available on DVD from Amazon.com and streaming at Hulu.com.