Freeze Die Come to Life (1990)
0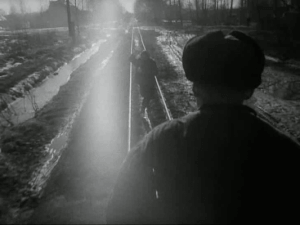 Set in a Siberian mining village in 1947, Zamri, umri, voskresni! (Freeze Die Come to Life) is a semiautobiographical account of the misadventures of a young boy and a slightly older girl with whom he develops a tenuous friendship. The bleakness of the dreary industrial nightmare in which they live is intensified by the excellent B&W cinematography which alone makes the film worth viewing. At times it takes on a surreal quality which calls to mind the work of David Lynch, especially Eraserhead. First time director Vitaly Kanevsky, who spent eight years in a Soviet labor camp, only received enough funding for a ten minute film, had to edit it several times before Russian censors would approve it, and yet it won the Caméra d'Or (Best First Feature Film) at the 1990 Cannes Film Festival.
★★★★★★★☆☆☆ (7/10)
Freeze Die Come to Life at imdb.
As of November, 2015 Freeze Die Come to Life is available on VHS at Amazon.com. Though not currently showing, it's also apparently available for streaming at Mubi.com.