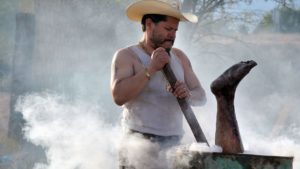 El infierno (Spanish for 'Hell') is Mexican writer-director Luis Estrada's third installment of a trilogy of films on Mexico. The other two films are La ley de Herodes (1999) and Un mundo maravilloso (2006). In 2010 Mexico celebrated both the 200th anniversary of its Independence and the 100th anniversary of its Revolution. Ironically, El infierno, whose tagline is Nada que celebrar ('Nothing to celebrate'), received funding from the government with the idea that the film would commemorate the dual milestones. The government denounced the controversial film but it practically swept the Ariels (Mexico's Academy Awards) and made box office history. It tells the story of Benjamin Garcia ("El Benny") who returns to his small town in Mexico after living in the U.S. for twenty years and finds that the only way to survive is to join up with one of the rival drug lords who happen to be brothers. Though the subject matter mainly concerns drug-trafficking, Estrada's main target is the corrupt system that allows those with money to make their own laws, a scourge that afflicts just about every so-called civilized nation on the planet.
Despite the film's biting political satire and tragic violence it is also darkly humorous in a way that calls to mind the films of the Coen Brothers or Quentin Tarantino. But as Sam Adams points out in his excellent review Narcocorridos, the Scarface Effect and Hell on Earth, El infierno seems mostly to be influenced by Sam Peckinpah's Bring Me the Head of Alfredo Garcia. Consider that in both films the protagonist's name is Benny (Bennie in Peckinpah's film), both are in love with a prostitute, and both have bosses who demand the heads of their enemies. Besides that, the actor who portrays Benny Garcia (Damián Alcázar) bears a physical resemblance to Warren Oates and sports a similar wardrobe. One of the key final scenes of El infierno could be seen as an homage to the climatic gun battle in Peckinpah's The Wild Bunch. Like Tarantino, Estrada succeeds at making his protagonists likable in spite of their horrific deeds. In an interview he stated, "The important thing for me was to show some of the complexity of the phenomenon. This is not a problem about good guys versus bad guys like the government says."
Several imdb reviewers who live in Mexico have commented that what this film depicts isn't true for every town and city in their country. Indeed, that would be akin to watching one of Martin Scorsese's gangster films and concluding that every American city is a mafia battleground. Estrada noted that many people tend to take the film as a documentary but he insists that it was never meant to be taken as realism. In his own words he was "trying to invite Mexicans to a collective reflection" on the state of their country and the War on Drugs which according to the Mexican government is succeeding. Even then president Felipe Calderón, though claiming he hadn't seen the film, stated, "I would just ask that we be a bit more careful with Mexico's name and image and we avoid demolishing national spirit." Considering that homicides in Mexico were estimated to be over 164,000 between the years 2007 and 2014 it seems ridiculous to blame the film for tarnishing Mexico's image. Mexico's problems aren't going to disappear by ignoring them. We need filmmakers like Estrada who aren't afraid to tell the truth.
Some have credited the first film of Estrada's trilogy, La ley de Herodes, with helping to bring about the defeat of the ruling political party which had been in power for 71 years in the 2000 presidential election. Unfortunately it seems that El infierno hasn't had the positive effect that Estrada had hoped for. In spite of a few high-profile arrests of cartel kingpins new cartels have arisen, one of which, Cártel de Jalisco Nueva Generación (CJNG), has carried out attacks on the Mexican military. Vigilante groups formed to counter the cartels have begun fighting amongst themselves and sometimes even resorting to extortion, drug trafficking, and kidnapping just like the cartels with some of the vigilante groups suspected of being extensions of CJNG.
Here's hoping that the film becomes better known in the U.S. and inspires some compassion for Mexicans who have sought refuge in America. After all, Americans are the Mexican drug lord's best customers and complicit in their rise to power.
★★★★★★★★☆☆ (8/10)
El infierno at imdb.com
As of August, 2016 El infierno is available on DVD from Amazon.com