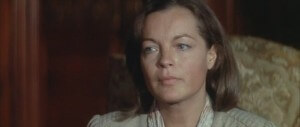 Original title La Mort en direct. This French/German production wasn't released in America until 1982 in an edited version that made significant changes to the story. It was digitally restored and released on DVD in 2012 with director Bertrand Tavernier's original cut. It is based on a novel by British science fiction writer David Compton called The Unsleeping Eye which takes place in the near future when science has all but eliminated illnesses. Harry Dean Stanton plays an unscrupulous T.V. show producer, Vincent Ferriman, who tricks a popular romance novelist, Katherine Mortenhoe (Romy Schneider), into believing that she has contracted a rare illness for which there is no cure and offers to buy the rights to film her demise for his reality T.V. show called Death Watch. After initially refusing the offer she changes her mind but then disguises herself and goes on the run in order to die in private. Ferriman hires Roddy (Harvey Keitel), an insomniac who has had a camera surgically implanted in his eye, to befriend Katherine and film her without her knowledge. Max von Sydow has a small role at the end of the film as Katherine's ex-husband Gerald Mortenhoe, a musicologist who muses philosophically about the human tendency to dramatize our lives which are in reality insignificant and meaningless. Despite the presence of Stanton and Keitel and the fact that the dialogue is in English, the film has a European art film flavor evident in its pacing and emphasis on characters and ideas rather than action and props. No real attempt was made to create a futuristic setting. In that respect the film is more along the lines of Nicolas Roeg's The Man Who Fell to Earth (1976) or Andrei Tarkovsky's Stalker (1979).
Beautifully shot on locations in and around Glasgow, the gray skies and gritty settings gradually give way to sunnier hues as Katherine and Roddy make their way to Gerald's home near Land's End. Antoine Duhamel's beautiful score accentuates the story's tragic aspects. He created a motet by a fictional Renaissance amateur composer which was discovered by the character of Gerald in the film which caused some moviegoers to seek recordings of the fictional composer's work in record shops.
Today, when reality television shows like the television show in this film have become prevalent and in a society where documenting one's experiences has become more important than the experience itself, Death Watch provides an accurate mirror of a culture debased by its own vulturous media.
★★★★★★★★☆☆ (8/10)
Death Watch at imdb.com
As of January, 2016 Death Watch is available on DVD/BluRay from Amazon.com.